Update: Heute am 6. Dezember 2018 erhielt ich eine Nachricht von Dr.-Ing. Irene Meissner von der Technischen Universität München mit dem Hinweis, dass die Offenbacher katholische Pfarrkirche St. Peter nicht vom bekannten Architekten Sepp Ruf (wie unten und auch auf Kirchbau.de, Wikipedia, Frankfurter Rundschau behauptet) gebaut wurde, sondern von einem gleichnamigen Architekten. Wer war der andere Sepp Ruf? Kam er aus Offenbach? Wer ist jetzt der wahre Sepp Ruf 🙂
Update: Today, December 6, 2018, I received a message from Dr.-Ing. Irene Meissner from the Technical University of Munich with the note that the Offenbach Catholic parish church of St. Peter it's not built from the famous german architect Sepp Ruf, like all medias are saying, instead of an architect of the same name. Who was the other Sepp Ruf? Did he come from Offenbach, he's still living? Who is the true Sepp Ruf 🙂
Wir werden dem nachgehen … we're looking forward
Vielen Dank an / thanks to Ms. Meissner ..
Links:
http://www.kirchbau.de/php/300_datenblatt.php?id=13607&name=keiner
http://www.fr.de/rhein-main/alle-gemeinden/offenbach/oekumenische-initiative-viele-orte-des-glaubens-a-1129940
Dez 2018: Today I received a message with detailed information: Architect was Josef Ruf, Mindelheim. Built further other churches in Bavaria. Thanks to Andreas Schmidt 
PDF, page 5:
http://www.eduardoperez.de/JubilaeumsPB2013K.pdf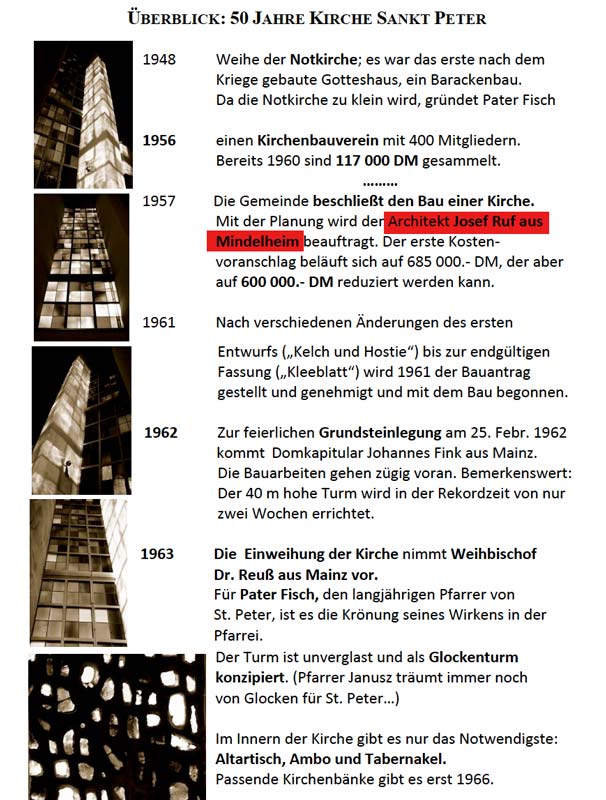 Old:
Architect: Sep Ruf, kath. church, Offenbach am Main, 1963. With Egon Eiermann a well known german post war modern architect, e.g. german Chancellor Bungalow, Bonn 1964 or the german Expo pavilion 1958.